KMO Shops offers an easy and complete method of selling online and shipping parcels, together with DPD Belux
1. Log in op My KMO Shops
Ga naar https://my.kmoshops.be en log in met de gegevens die je na registratie bij KMO Shops hebt ontvangen.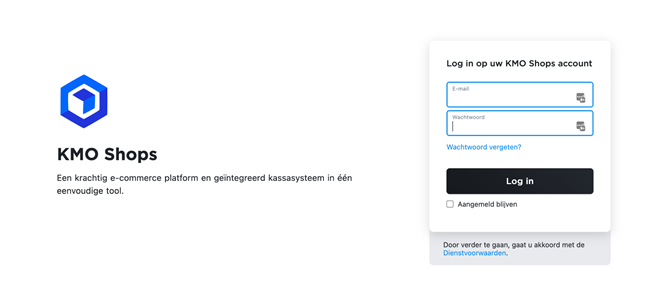 2. DPD Accountgegevens ingeven
Ga naar "Bezorging & afhalen" → DPD
Om de koppeling van KMO Shops met DPD te activeren, heb je volgende gegevens nodig die je van je DPD Sales contactpersoon ontvangt. Na ingave, klik op 'Opslaan'
Username = DPD DelisID
Paswoord = DPD paswoord
Verzenddepot (4 cijfers – 05XX)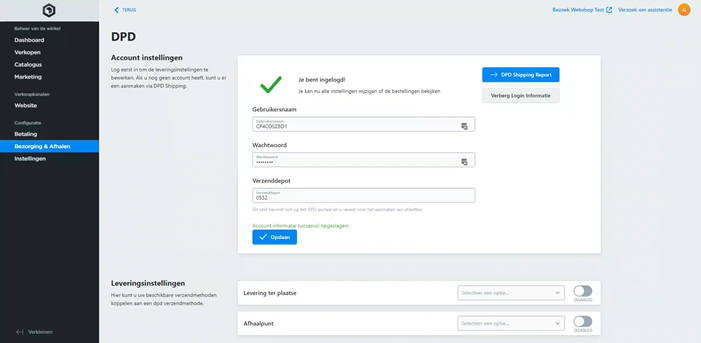 3. Verzendmethode toevoegen of lokale levering toevoegen
Voeg een verzendmethode toe (DPD) en kies voor een lokale leveringsmethode (eigen levering)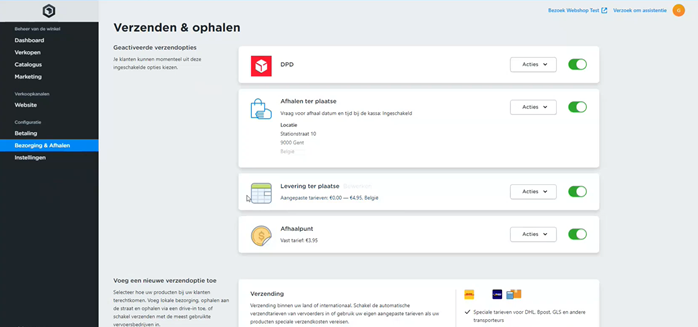 Verzendmethode toevoegen: Stap 1 van 2
Keuze van methode instellen: Kies voor gratis levering, drempelwaarden, vaste of aangepaste tarieven. Verken de mogelijkheden en selecteer wat je wilt instellen.

Verzendmethode toevoegen: Stap 2 van 2

Instellen van aangepaste methode: Naam en tarief volgens gewicht bereik, leveringszone, subtotalen en leveringsvoorkeuren.
Het is mogelijk te preciseren welk tarief voor welk gewicht geldt, om beter in te schatten wat je hier wilt opgeven, is het handig om je persoonlijke tarieven met DPD te raadplegen per gewicht en verzendmethode.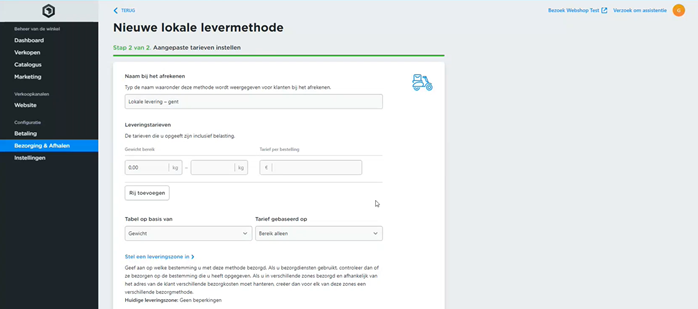 4. Bezoek je webshop en maak een test verzending aan
Nu alles is ingesteld, kan je inloggen op je webshop en nagaan of de check out zich gedraagt zoals je hem wou instellen. Je kan een order aanmaken en eventueel de instellingen uit voorgaande stappen nog aanpassen nadien.
Kies voor 'Bezoek Webshop'

In de Shop, stap 1 van 4: Product(en) kiezen
Stel je winkelmand samen en kies voor afrekenen.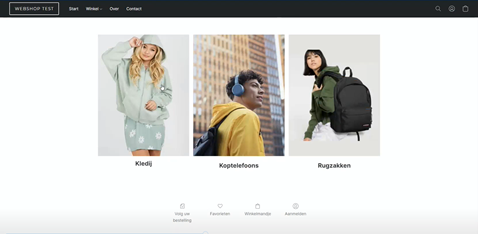 In de Shop, stap 2 van 4 : Bij de kassa
Geef je gegevens in alsof het een echte verzending betreft. Gezien we hier in de testomgeving ons bevinden, zullen er geen kosten in rekening gebracht worden door eender welke partij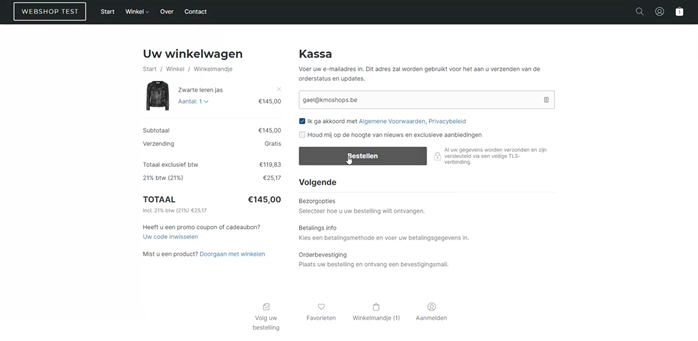 In de Shop, stap 3 van 4 : Verzendmethode kiezen
Kies één van de vooraf ingestelde verzendmethoden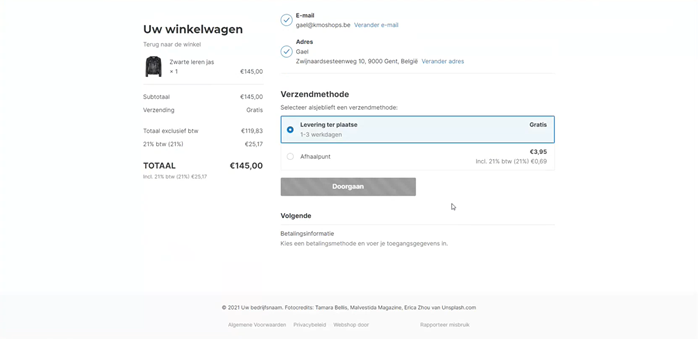 In de Shop, stap 4 van 4: Bestelling afgerond
Bij het succesvol plaatsen van de bestelling, krijg je dit bevestigingsscherm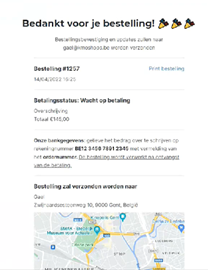 5. In de backend van de Webshop: Overzicht orders en verzendlabels aanmaken
Na het plaatsen van een verkooporder, kan je in de backend het overzicht raadplegen en verzend labels per order afdrukken
In de Backend, stap 1 van 3: Keuze van Verzendmethode
Kies eerst een standaard levermethode die je vooraf hebt ingesteld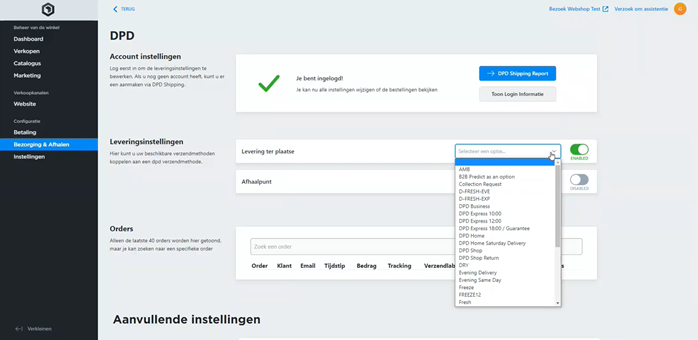 In de Backend, stap 2 van 3 : Overzicht van Verkoop Orders
Kijk welke orders openstaan in welke status en klik door naar 'Bezorgen & Afhalen'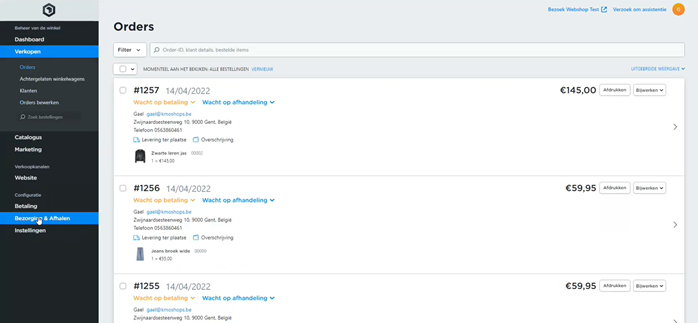 In de Backend, stap 3 van 3 : Verzendlabel en Retourlabel afdrukken voor een Order
Kies in het overzicht onderaan het verzendlabel dat je wilt afdrukken, bekijk de details of open de tracking URL (in een latere fase)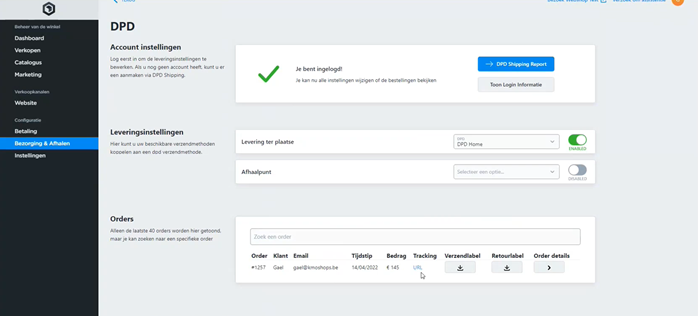 Voorbeeld van verzendlabel na download voor afdruk (4 labels per A4 ingesteld)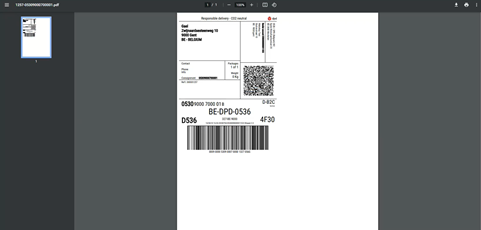 Voorbeeld van retourlabel na download voor afdruk (4 labels per A4 ingesteld)